April 18, 2010
This weekend I went to a couple antique shows (at the Chicago Botanic Garden and Randolph Street Market), and was drawn to antique Filigree designs. In the last couple of years I've seen some of our brides have beautiful antique engagement rings with gemstones and diamonds, with lovely engraving work on the bands, like this one.
Filigree in ancient times referred to the general design work of the jeweler, but today it more specifically refers to delicate lace-like metalworking with silver or gold. It seems to derive from jewelry work, but and can be seen on other items from dining platters and silverware to decorative art pieces.
These intracate designs were found throughout history from ancient times among such cultures as Egyptian, Etruscan, Greek, Sardinian, and across Asia, especially in Calcutta. Into later times it continued to be prevalent in Celtic, French and Mediterranean designs. It seems to be pervasive throughout time and cultures, and it is no wonder so many people are still drawn to the classic look today.
Here are some inspired Filigree design examples:
www.fancyflours.com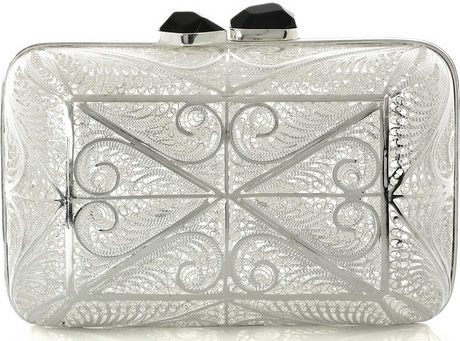 www.purseblog.com
www.wilton.com
tagged
anniversary,
antique,
design,
filigree,
wedding